Leave It To Beaver

(1957 - 1963)
Creator: Various
Cast: Jerry Mathers, Hugh Beaumont and Barbara Billingsley
page about Leave It To Beaver

---
---
---
---
Universal Studios Hollywood:
Some scenes were shot on Stage 30, which was demolished in 2010. Stage 17 was also used. Exteriors for seasons 3-6 were shot on Colonial Street, using what became known as the Cleaver House. The Munster House and was also seen, as was Courthouse Square.
Classic sitcom of the 1950s and 1960s that still has a great deal of resonance fifty years later.
The values of the Cleaver family (and the moral message of each episode) are still relevant to families today.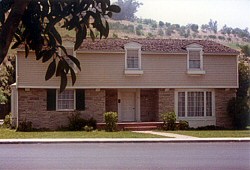 The famous "Leave it to Beaver" residence can still be seen on Colonial Street to this day (although it's not very recognisable since the Desperate Housewives moved onto Wisteria Lane. The story of the house is complex - the house on Colonial Street today is the structure built for the 1996 'Leave it to Beaver' movie. The original facade which featured as 211 Pine Street (seasons 3-6 of the show) is still on the backlot, but is in a section not open to trams or visitors. It was moved to an area near Falls Lake in 1988 in preparation for shooting of "The 'Burbs".
Read a full history of the Cleaver's house featured in Leave it to Beaver by Mark of the Mayfield Historical Society.
Link:
---
---
Back to Main Home Page [2732]
---
---