Superman

(1978)
Directed by: Richard Donner
Cast: Christopher Reeve, Margot Kidder, Gene Hackman, Marlon Brando, Ned Beatty
page about Superman

---
---
---
---
Pinewood Studios:
007 Stage - Fortress of Solitude and Artic exterior with lake and glaciers (tank holding 800,000 gallons of water).
Shepperton Studios:
Principal photography began on 28 March 1977. C Stage: Jor-Els chamber and the Destruction of Krypton (start of filming). H Stage: Fortress of Solitude, filmed in May 1977
Pinewood Studios:
Soundstage sets:
- Daily Planet offices
- Lex Luthor underground lair and pool
A Stage - Flying Unit
In addition to the sequences shot at Pinewood and Shepperton, the movie also shot in the following locations:
Plains of Canada - Ma & Pa Kent farm & wheat fields (landing of Kal-El)
New York - Daily Planet exterior and some street scenes
Foothills of the Rockies - Nuclear missile hijack scenes with Lex Luthor, Otis, Miss Teschmacher
Another day of gruelling flying scenes, captured in this great candid shot, from Ain't It Cool News website.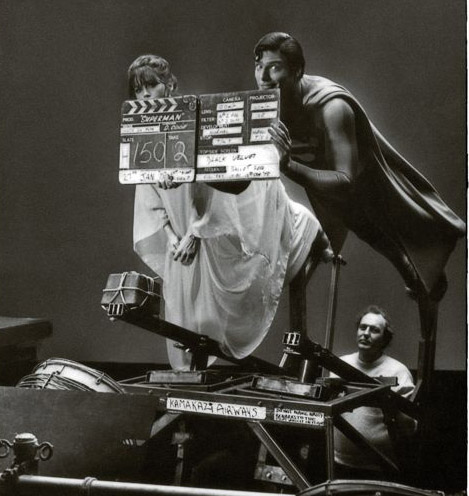 The Making of Superman The Movie (1978)
---
---
Back to Main Home Page [2614]
---
---