Providence

(1999 - 2002)
Creator: John Masius
Cast: Melina Kanakaredes, Mike Farrell and Paula Cale
page about Providence

---
---
---
---
Universal Studios Hollywood:
The main Providence house can still be found on Colonial Street. The Chicken Ranch also featured. Interiors were shot on Stage 22, Stage 24, Stage 25 and Stage 36.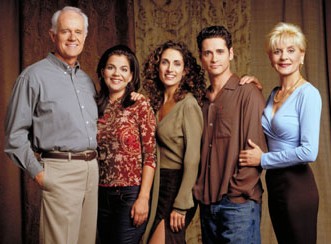 Dr. Sydney Hansen, a successful plastic surgeon in Hollywood, California, quits her private practice and returns to her hometown in Providence, Rhode Island after the sudden death of her controling, demanding mother Lynda, in order to keep her dyfunctional family together which a little help and advice from Lynda who gives advice from beyond the grave in helping Sydney deal with her new career as a doctor for the local free clinic and dealing with her distracted veterinarian father Jim, her mixed-up sister Joanie, and younger brother Robbie, a small-time hustler. (from IMDB.com)
The Providence family home can still be found on Colonial Street. It's based on the real house used as a location for the first few shows, and for stock establishing shots. The house is currently appearing in Desperate Housewives.
Various parts of the backlot were used for the show's dream sequences.
---
Leave Comments
---
Back to Main Home Page [1005]
---
---