MGM Borehamwood (aka MGM British)
Elstree was a major centre for film production from the early days of cinema. There's a great deal of confusion about which studios at Elstree were used for which movies / TV shows.
This page covers MGM Borehamwood (also known as Amalgamated Studios, MGM British Studios and Elstree Way Studios)
See also;
BBC Elstree Centre (also known as Clarendon Road Studios, Neptune Studios, ATV Studios, Central TV Studios)
Elstree Film Studios (also known as Shenley Road Studios, British International Pictures, EMI Elstree Studios, Cannon Elstree Studios, Goldcrest Studios, Elstree Film & TV Studios)
Millenium Studios
Gate Studios (also known as Station Road Studios)
Danziger Studios (also known as New Elstree Studios)
MGM Borehamwood (also known as MGM-British Studios)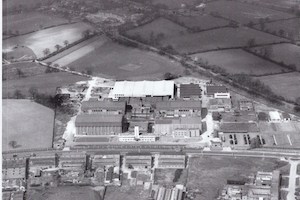 MGM-British was a subsidiary of Metro-Goldwyn-Mayer (MGM) and was initially established at Denham Film Studios in 1936.
After the Second World War, MGM-British took control of the former Amalgamated Studios site, between Shenley Road and Elstree Way, at 120 acres, this was one of the largest facilities in Europe.
The photo below shows a gathering at MGM Borehamwood during pre-production on 2001: A Space Odyssey.
Photo credit: Unknown, courtesy Mike Grant.
Left to Right: Frederick Ordway III (NASA adviser), Donald Slayton (NASA astronaut), Arthur C. Clarke, unknown, Stanley Kubrick, George Mueller (Senior Administrator, Apollo project).
More about Frederick Ordway III's work on 2001: A Space Odyssey can be read on this article.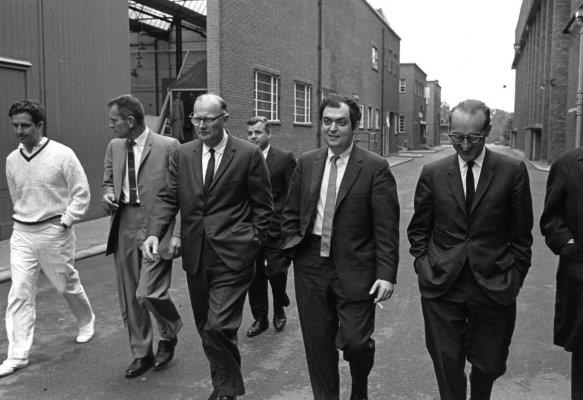 The studio closed in 1970, and operations were transferred to the (at the time) EMI Elstree Studios down the road, and the studio site was cleared for other industrial and residential uses.
The Studio Housing Estate which takes up part of the site has street names relating to the cinematic past.
More Information
---