Warner Bros Studio Tour London-
The Making of Harry Potter

**This website is not linked to Warner Bros. or the studio tour attraction. All I know about the attraction is on this page**
Welcome to theStudioTour.com page about the Warner Bros Studio Tour London. Once you've had a look at all of the details below (and booked your tickets to The Making of Harry Potter) please have a look at the list of productions filmed at Leavesden Studios, and explore the other film studios on this site.
This page covers some of the events and publicity material that took place BEFORE the attraction opened. For information about the Studio Tour itself, and how to book tickets, please see the Studio Tour page.
Photos
COMING SOON
Additional information
In April 2010, Warner Bros. announced plans to buy the Leavesden site outright and redevelop and upgrade the facilities, spending over £100 million. The studio has been renamed Warner Bros. Studios, Leavesden and in Spring 2012 the Harry Potter themed visitor attraction opened, catering for up to 6,000 visitors per day..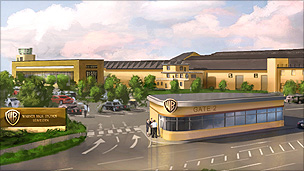 There was no way for members of the public to gain access to the studio until the visitor attraction opened in April 2012. The visitor attraction is based on two new soundstages built especially for public access - there will unfortunately be no access to the actual soundstages used for production, but you will walk on some of the most iconic sets from the Harry Potter series, and see thousands of props and costumes, which were all preserved following filming.
There are also some Harry Potter props and costumes on display at the London Film Museum and on the Warner Bros Studio Tour in Burbank, California USA or you can visit the Wizarding World of Harry Potter at Universal Orlando, Florida USA.
Press Links
Development of the Attraction
Launch Event Press Conference

Left to right: Nick Dudman (Prosthetics and Creature effects creator), Sam Burroughs, Warwick Davis, Evanna Lynch. Empire Big Screen event, O2, Sunday 14 August 2011
Back to Leavesden Film Studios home page