Cardington Airship Sheds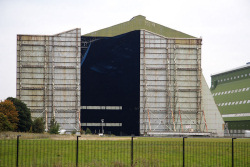 Built during the First World War for Airship construction, one of the sheds at Cardington (Bedfordshire, UK) has recently been put to good use to house the cavernous sets for Batman Begins, The Dark Knight, The Dark Knight Rises and Inception by Warner Bros.
The production company worked at the site for 10 months prior to Batman Begins to prepare the run-down structure for use as a massive stage.
NEW: Cardington Studios Website
Following Warner Bros' use of the sheds from 2005 to 2012, new owners have refurbished the sheds and set up support facilities for production companies to use. (August 2013)
Dimensions (each shed):
Length: 812 ft (247m)
Width: 275 ft (84m) total, clear width is 180 ft (54.9m)
Height: 180 ft (55m) total, clear height is 157 ft (47.9m)
Although it's not soundproofed (and therefore not a 'soundstage'), the shed is proving very useful for building massive sets, and as post-production sound technology improves, the need for soundproofed stages is reduced. The total amount of floor space available (223,000 sq feet, or 5 acres) is over 5 times the size of the largest soundstage available in Hollywood (Stage 15 at Sony Pictures 41,985 sq ft), and is almost 3 times the size of the largest soundstage in the world, Stage 15 at Babelsburg Film Studio in Germany (78,954 sq ft).
The signage that used to be outside the site 'T.I.G. Cardington' is said to stand for 'The Intimidation Game' which was the codename for Batman Begins.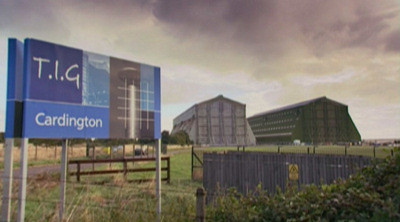 If you're on Facebook, join the We Love the Cardington Sheds group for updates and historical information.