BBC Elstree Centre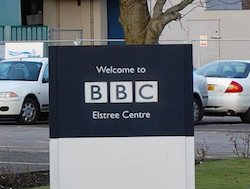 Studios at Elstree
Elstree was a major centre for film production from the early days of cinema. There's a great deal of confusion about which studios at Elstree were used for which movies / TV shows.
This page covers BBC Elstree Centre (also known as Clarendon Road Studios, Neptune Studios, Rock Studios, National Studios, ATV Studios, Central TV Studios). The location has been used for movie / TV production since 1914 and has been the home of BBC Soap 'Eastenders' since 1985.
Unfortunately there are no public tours of the Eastenders Sets or of the studio itself at the present time.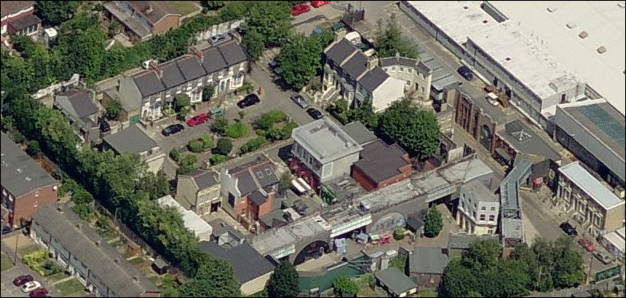 The Eastenders exterior sets with studio buildings beyond - Aerial photo from Windows Live Local
Other Elstree Studios;
Elstree Film Studios (also known as Shenley Road Studios, British International Pictures, EMI Elstree Studios, Cannon Elstree Studios, Goldcrest Studios, Elstree Film & TV Studios)
Millenium Studios
Gate Studios (also known as Station Road Studios)
Danziger Studios (also known as New Elstree Studios)
MGM Borehamwood (also known as Elstree Way Studios)