Studio Babelsberg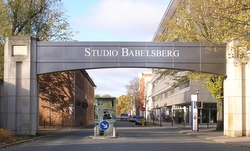 Studio Babelsberg is the oldest large-scale studio complex in the world and one of Europe's leading service providers for feature films and TV productions. Since 1912, countless renowned filmmakers have worked with Studio Babelsberg to produce legendary films. With a complete set of services that make Studio Babelsberg a one-stop shop, the studio employs one of the best crews in the world and is well known for its unique production service, skillful set construction department and huge prop shops.
Many of Germany's most famous classic films have been created at the stages and facilities of Studio Babelsberg, including Fritz Lang's Metropolis and Josef von Sternberg's The Blue Angel, starring Marlene Dietrich. More recent movies shot here include Quentin Tarantino's Inglourious Basterds, Roman Polanski's The Ghost Writer and Roland Emmerich's Anonymous.
With 16 sound stages, various back lots and exterior sets on a 39-acre lot, fist-class technical capabilities, highly skilled crews, attractive shooting locations nearby and its close proximity to the
trendy city of Berlin, the Studio offers ideal conditions for any production need. In addition, Studio Babelsberg offers a wide variety of co-production and financing services and opportunities.
A Studio Tour can be booked by groups (only) between 5 and 25 people. Individuals cannot be accommodated. More information about the tour.
Facilities
16 sound stages [see PDF for full details]
Various back lots and exterior sets on a 39-acre lot
Stage 1: Marlene Dietrich Halle

With its total floor space of 60,000sqft and its 46ft. ceiling, this stage counts among Europe's largest sound stages – an ideal location for feature film production. The complex is divided into three stages, the main 22,600sqft. stage and two additional stages, offering 17,760sqft. each. The stages at Marlene Dietrich Halle are all equipped with a broadband communication network (Monomode).

Stage 2: Tonkreuz

This historic building was erected in 1929 as Germany's first sound stage. It now houses a high-tech film and television production complex, outfitted with the latest technology.

Stage 15
Backlot
Berliner Street
In the fall of 1998, Studio Babelsberg built a permanent exterior film set modeled after a typical Berlin street setting. The set is built on a 1.7acre lot and includes 26 facades.
The feature films Sonnenallee, The Pianist and Flame & Citron have been all shot on the back lot.
The facades resemble a typical urban architecture of the late 19th, early 20th century and can be easily dressed to incorporate European cities such as Paris, Rome or London.
Village of the Middle Ages
This set was built for a movie in 1984, and is now part of the Filmpark studio tour.
More Information
Official Links
See Also